When you're suffering from a herniated disc in the neck, gravity is one of your biggest enemies.  As gravity pushes your head down, your discs are compressed and that presses on structures around the disc such as nerves.  This can cause sharp pain, numbness and tingling in the hands, and/or radiating pain from the neck down the arms.  One way to relieve this pain is to pull your neck against gravity, or decompress the cervical spine.  The whole concept behind disc decompression therapy is to increase the space between the vertebrae (where the discs sit) and take pressure off surrounding nerves so you can diminish symptoms.
What's great about this treatment is that you can buy a home unit and treat yourself from the convenience of your home.  This may help you avoid surgery and save you a lot of money.  Here's what the device looks like: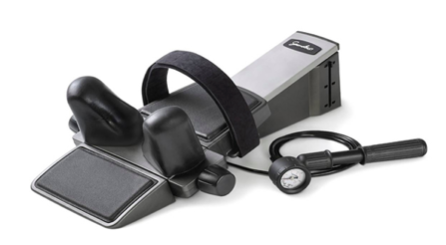 The device itself is very basic and easy to use.  You place it on the floor, lay on your back with your head secured on the device, then use a pump to stretch your neck.  You can buy this device from Amazon.com here.  Below you'll find a video I found on YouTube so you can see how easy it is to use. 

If you've been diagnosed with a disc herniation in the neck, this device may help you avoid surgery.  Along with neck exercises for disc herniations, this can be an effective option to relieve your pain.
Did you like the information in this video?  Click the buttons below and share with your friends